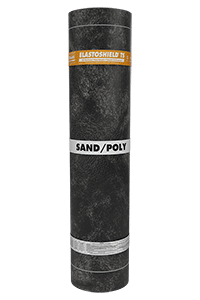 Applicable Standards


Application Methods

Heat-Welded
Elastoshield TS is an SBS (elastomeric) modified bitumen membrane. This durable membrane is reinforced with a non-woven polyester mat which ensures flexibility and dimensional stability as well as superior tear and puncture resistance. The proprietary SBS compound offers excellent waterproofing and weathering physical properties.
Elastoshield TS is configured with a sanded top surface and a burn-off film on the bottom surface for heat welded applications.
Elastoshield TS base/interply membrane can be used as part of a Polyglass warranted multiply system when combined with Elastoshield TS G or other approved Polyglass cap sheets.